Royal Cove — Hole #4: Par 5
By
Golden Tee Fan
• Category:
Royal Cove
•
This can be a really tough eagle.  First, you might want to take a run at the green or at least get it close!  Rotate right and play a big high-teed C3 driver around the side.  Just hope you don't get unlucky like this!
If you don't want to give that a try, rotate right and take a look for a shortcut layup spot down amongst the trees (the demo points it out too).  If you can land here, you'll have a 5-wood (no more, no less, because you need this specific elevation) over the hill and under the trees for an approach shot — here's a hole-out from there.  This tee shot missed the landing area to the left but the approach still somehow found the cup!
The best spot to be is in the fairway out past both sand traps, which can give you a pretty straight approach shot into the green. Here's a hole-out after a long drive.  But, most times the wind and/or tee won't allow you to get it there.  There is also a shot just short of the left trap with a 5-wood, because the farther left you safely are off the tee, the better!  It's tough to hit the fairway between the two traps, but if you do, you can curve in your approach shot.
Also, if you're in the left trap but you hit it far enough, you will have a shot at the green — sometimes pretty straight.  The rough behind or to the left of this trap can also work well.  And this 5-wood caught a nice deflection off the hill to find the cup!
Another way to get at this landing spot is to play a big A1 driver with roll and ram it into the side of the castle.  It will bounce off but continue forward, and you should end up in the area by the sand where you need to be to have a clear shot at the green!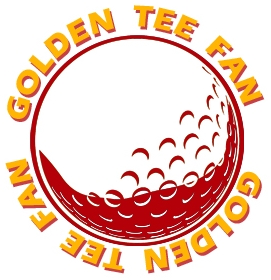 Golden Tee Fan is a Golden Tee addict from Chicago, IL, thirsty for tips and tricks!
Email this author | All posts by Golden Tee Fan