Royal Cove — Hole #8: Par 5
By
Golden Tee Fan
• Category:
Royal Cove
•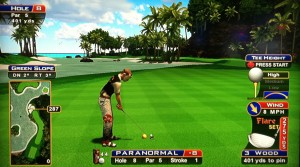 This hole is actually drivable in certain setups with a high-teed A1 driver, but almost never worth the risk.  There's a very small margin of error in terms of the curve path and the distance, and it requires you to land in the sand strip short of the green to kill the ball and stop before cruising over to the water.  It can be fun to try if you're messing around, but you WILL be put back on the tee when you miss, and then you've just lost 2 strokes.
As in the video demo, the best option here is to take a high-teed 3-wood towards the sand, over the trees, hoping to just carry the sand and land in the rough beyond.  Anywhere in this area gives you a great look to the green for an eagle putt.  Here's a hole-out from the sand over there.
There are also a couple islands to the left that give you a shot.  The closest, bigger island to you is easier to hit, but you must land towards the back part of it to have the angle in.  If you are short here, you won't have a straight shot, and you can't cut a shot from the rough into the green from this far away.  Also, it all slopes towards the water, so you may have to play a small cut into the island to avoid dribbling off.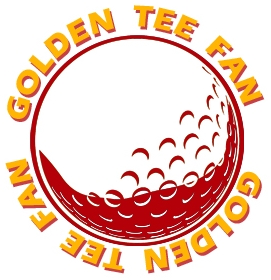 Golden Tee Fan is a Golden Tee addict from Chicago, IL, thirsty for tips and tricks!
Email this author | All posts by Golden Tee Fan