Tundra Peak — Hole #16: Par 5
By
Golden Tee Fan
• Category:
Tundra Peak
•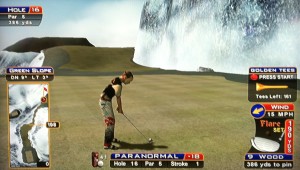 The island straight ahead is the common shortcut shot for an eagle chance but can be very tough to stick at times because it's not completely flat, and backspin isn't as effective in the frozen tundra.  It's elevated too, so consider a high tee and/or hit it a bit more firmly.
Here's a solid tip — if you have an outwind, just thumb a driver into the hill with backspin.  If you're in the front of the box, tee it low, and if you're in the back of the box, just thumb it without a tee.  It should plop up onto the patch nicely, taking the wind out of play.
On your approach shot from here, you can ramp up the ice in front of the green if you have to use a driver, so keep that in mind as an option that could help!  This 3-wood also ramped up the hill to a back right pin.  Here's a great 3-wood bite shot to a back pin.  And this one played a little cut shot into the icy slope so it bounced up beautifully and in!
Another option is to lay short straight ahead in the fairway and bring in a big A1 around the corner into the green.
Finally, you can hit an A1 driver or 3-wood off the tee to try to stick the narrow strip around the corner.  This one actually carried all the way around and barely up for a great approach shot!
In addition, you can try to ram this shot into the snow as it comes around.  If you play it just right, it will stick, and you can have an easy 9-wood in from there!
If you miss any of these shots, you still get a drop that allows a chance to hit your approach shot on the green and birdie the hole, so don't be afraid to practice!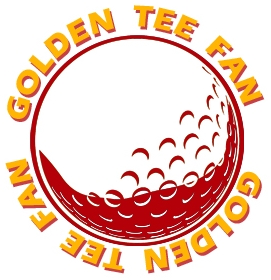 Golden Tee Fan is a Golden Tee addict from Chicago, IL, thirsty for tips and tricks!
Email this author | All posts by Golden Tee Fan