Tundra Peak — Hole #18: Par 4
By
Golden Tee Fan
• Category:
Tundra Peak
•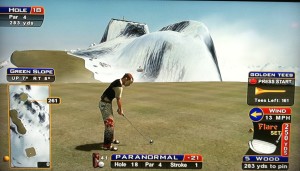 The most common, and usually safest, shot is a high-teed 5-wood.  Since it slopes way back towards you and the green is frozen, it should settle, although you'll almost always have a fun downhill putt to finish out!  This one was just played very nicely.  Medium-teed 5-woods also work sometimes.  Here's a nice one that flirted with disaster!
Sometimes it's a high-teed 4-wood (into a headwind) or even a high-teed 7-wood with a closer tee box and big tailwind.  If you're really far back, you can get lucky sometimes if you come up a bit short.  As long as you are on target, the ball may roll up the ice slope short of the green and still settle on the green anyway!
Speaking of that, and if you are really far back with a tough headwind, an accurate driver can actually get it done — check out this amazing shot that rolled all the way up the ice and in!  Here's another amazing hole-out to a back pin.  And check out this deflection off the right wall!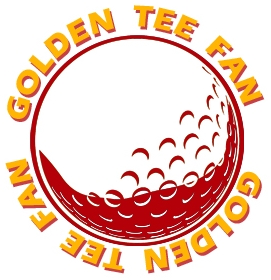 Golden Tee Fan is a Golden Tee addict from Chicago, IL, thirsty for tips and tricks!
Email this author | All posts by Golden Tee Fan