Bear Lodge — Hole #16: Par 5
By
Golden Tee Fan
• Category:
Bear Lodge
•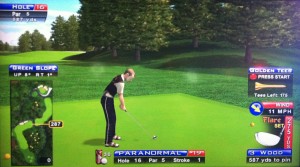 Here's a tough par 5 that can be really difficult to reach in two.  It often takes two great shots.  Here are your options off the tee:
1) If you have the distance, blast it straight ahead through the fairway into the rough by any means possible.  This gets you a pretty straight look into the green for your second shot.  Here's a 4-wood hole-out from there, and here's another one with the 5-wood.
2) Look to the right and find the hollowed-out path through the trees back into the fairway.  Line up your drive for a C2-3-type shot through here, picking the right distance to make and hold the fairway.  It's not easy, but it gives you anywhere from a straight look to another C3-type shot back into the green.  A good shot ends up around here for a 3-wood into the green.  This great drive found the fairway for a much closer approach shot, and this shot also got through far enough to have plenty of distance from the rough and still an open look at the green.  Even if you get a bit too close to the tree on the other side of the fairway, you may be able to curve one around!
3) Lay up just behind and to the left of the sand.  From here, you'll have a big A1-type shot with a driver or 3-wood around the trees, over the water and into the green.  Check out this amazing hole-out.  If the wind is blowing towards the green, you can even come up a bit short and still get away with the wind pushing a shot deflected off the front wall up and onto the green.
4) Play a high-teed 5-wood A2-type shot around the corner of the trees off the tee.  This can give you a shot at a C3 approach back into the green.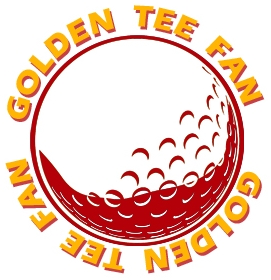 Golden Tee Fan is a Golden Tee addict from Chicago, IL, thirsty for tips and tricks!
Email this author | All posts by Golden Tee Fan