Cape Haven — Hole #16: Par 5
By
Golden Tee Fan
• Category:
Cape Haven
•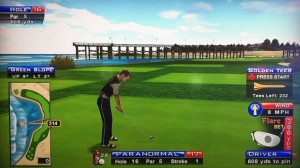 With a tailwind, blast a long drive down the fairway, where you should have enough to get there in two.  Hit it straight or curve it and try to get past the bridge a ways.  The overhanging bridge can be in play if you hit it too hard, so you'll want the ball on the ground by the time it gets there.
With a headwind, you may consider laying up on the pier — it's in play!  This 3-wood was hit a bit too hard but caught a nice bounce back into the middle.  If you can manage to land your ball there with enough clearance to get over the rails, then a potential eagle is your reward.  Check out this 3-wood hole-out from the pier!   This one, however, was close to the rail but found a way through it!
With side winds, it may depend on the tee box.  If you can't get out past the bridge in the fairway, you may try laying up on the pier instead to reach in two.  This 5-wood into a side wind was played perfectly up there.  And here's some bad luck — this drive found a tiny hole in the deck and dropped in the water.
Now to some good luck — after trying to lay back up on the pier after an errant drive, you won't believe where this ball landed!
There's another box way up to the right you may only get in casual play — here's a hole-out after a drive from that box.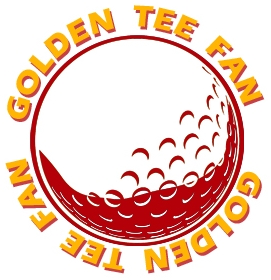 Golden Tee Fan is a Golden Tee addict from Chicago, IL, thirsty for tips and tricks!
Email this author | All posts by Golden Tee Fan