Cape Haven — Hole #7: Par 5
By
Golden Tee Fan
• Category:
Cape Haven
•
You may have to carry 340 or more to reach the green if you play out to the left fairway.  It can be done sometimes, but you also don't want to get wet trying, and you'll have to put extra emphasis on your drive to be as far right as possible.  It's worth consideration sometimes if the wind is blowing towards the green.
Most of the time, you'll be playing to the narrow fairway out right.  Missing left is wet, but if you miss slightly right, you may still catch some sand at the bottom.  And from here, you can still get to the sand to the right of the green on your approach, allowing you to save birdie!
Here's a great 7-wood around the left of the lighthouse from the narrow fairway.  This driver made it around the left from the very back of that fairway.  And here's a 5-wood dunk around the right side.  Finally, this shot actually deflects off the left side but still finds its way to the cup!  And this one rammed into the right side but also got a very generous deflection to find the hole.
If you happen to get wet, there are occasions where you can still reach the green from the drop zone.  It'll take a good wind and a precise shot — here's a nice example.
There's a teebox possibly only available in casual play up to the left a ways, and from here, you can fly your drive to the second far fairway.  Here's a hole-out from there.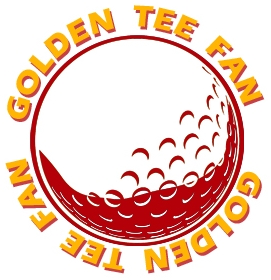 Golden Tee Fan is a Golden Tee addict from Chicago, IL, thirsty for tips and tricks!
Email this author | All posts by Golden Tee Fan