Coconut Beach — Hole #10: Par 4
By
Golden Tee Fan
• Category:
Coconut Beach
•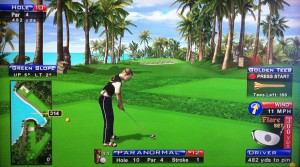 The play is almost always straight down the fairway to the right — you should have plenty of club to get there in two.  A driver can work nice to minimize the effect of wind and slope — this one was played nicely and found the hole.
Use either backspin, bite, or nothing with the driver approach shot depending on the wind.  Be careful with thumb shots, because they can catch the brick and kill any spin you had applied.  Pull back the ball for added elevation to make sure you carry the green, if spin is needed.
You can also cut the corner a bit off the tee by putting a little right-to-left curve on it, which can make for a slightly shorter approach shot.  Use backspin with a tailwind to keep the ball in the fairway.  This one trickled into the rough, but check out the hop shot over the sand into the hole!  And this was way off, but it's become the infamous deflection cheered on by the monkey.
The shortcut towards the hole is enticing, but of course a bit risky.  It can make sense if the wind is blowing directly at or away from the pin.  Here's a hole-out after sticking that spot.  Or, you can lay up short of the sand and bring it in with a driver.  Keep in mind, however, that if you do end up long and roll over, there is sand that may keep your ball dry.  From there, a wood can recover nicely.  Even a  longer wood can work if needed!  Don't count on your ball staying dry with a tailwind, though…the headwind is what likely may keep the ball from bounding into the water.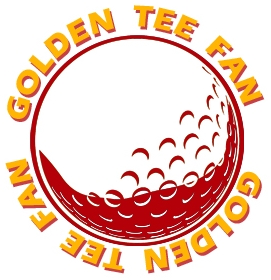 Golden Tee Fan is a Golden Tee addict from Chicago, IL, thirsty for tips and tricks!
Email this author | All posts by Golden Tee Fan