Coconut Beach — Hole #11: Par 5
By
Golden Tee Fan
• Category:
Coconut Beach
•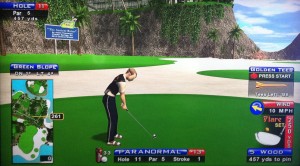 This year's Design-A-Hole has a lot going on.  There are a lot of options, so you'll need to size them up depending on your tee box.  From the front boxes, this hole can be drivable, and you'll always want to go for it.  Even with a wind blowing hard right, you can still curve a high-teed 3-wood around into the sand at least to give yourself a chip.
This high-teed 3-wood from the second-closest box found the hole!  Here's another ace from there.  This high-teed driver played the sand to find a closer cup as well!  Check out the amazing shortcut this 4-wood took on the way to the hole!  And this one amazingly found its way through the trees and into the hole!
From other boxes come more options, but the sand out to the right is in play and sets up for a nice approach shot — here's an example hole-out from there.  This should be your "go to" shot on this hole, as it's pretty easy to stick off the tee, and you'll usually have a decent line to the pin.  It only gets tricky if you are on the front-left part of the sand and the pin is on the left as well, because a tree hangs down and will catch your approach.  In this case, just aim out right to the center of the green instead.  Make sure to give your shot enough power so the distance and elevation carry you onto the green!
There's more sand out that way to the left which is reachable from the next box out, especially with a wind blowing left.  This can give you a much closer approach shot — here's a hole-out from there.
Next, a 9-wood or 7-wood can shoot up to a fairway patch on top to the left, which leaves a long wood into the green from there.  Here's a nice 4-wood hole-out from there.  This 3-wood also found the hole.  Getting over the stone shouldn't be an issue, but just keep it right of the overhanging tree.  This option may be desirable depending on the wind.
Finally, you can curve a driver through the center gap to leave you an approach shot in from the fairway over to the left — here's a nice 5-wood hole-out from there.  You may require a bit of curve from here at times too.  Since you may have to pull off two difficult shots to reach in two this way, it's not an often-used option for most players.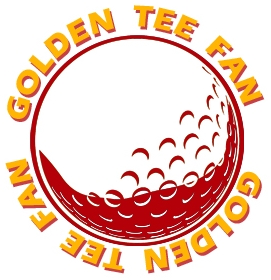 Golden Tee Fan is a Golden Tee addict from Chicago, IL, thirsty for tips and tricks!
Email this author | All posts by Golden Tee Fan