Coconut Beach — Hole #13: Par 4
By
Golden Tee Fan
• Category:
Coconut Beach
•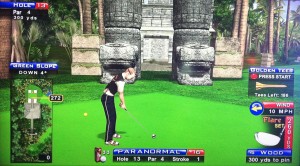 A low-teed 4-wood often works well here — it stays under the first obstacle and goes through the second obstacle instead of over it.  This lets you hit it hard but still have correct distance.  Check out an example of that shot here.  Just be careful using backspin and/or hitting it super hard, both of which elevate the shot and could leave you crashing high into the bricks instead of through the gap.
If you use backspin, hit it about 90%, with nothing: 95%, and with roll, you can crush it, since trajectory is lower with roll and you want to get high enough through.
Another possibility through that gap is a medium-teed 3-wood, again with just thumbs (about 90% speed), or a high-teed driver with thumbs (same 90% speed) — these give similar elevations to the low-teed 4-wood shot yet allow for alterations in distance if needed, or if you aren't playing a set with a 4-wood.
Once you find a shot that works consistently here, stick with it!  For me it's the low-teed 4-wood, hit hard but not totally crushed.  Then you just move around in the tee box a bit to adjust for the side wind when needed.  Also, with a back pin, consider putting bite on your shot instead of trying to let it roll all the way back.  With that narrow part of the green, you could roll into the sand instead of leaving yourself an easier shot of a longer putt by playing safer.
If you have a big tailwind and are in the middle of the box or farther back, you can hit a high-teed 9-wood over everything.  Use a tee, move all the way back in the box, and crush it!
If you slide left or right, you can see a small gap on either side of the far structure.  It's narrow, but you can work a 3-wood under the first overhang and then around the far one — this 3-wood took a tight line around the left side and found the hole!  And here's the same tight shot around the right side to a back pin.  I've not had success trying this option, because that first overhang is still very much in play and you have to stay inside of it to have a chance.
And check out this high-teed 5-wood around the right side!  Tony prefers this shot on a consistent basis, so you may want to consider it if the low-teed 4-wood doesn't look good for some reason.  It looks risky, but apparently it works!  Mouth also pulled off this shot with a high-teed 4-wood.  This attempt didn't go so well, but check out the recovery!
Finally, here is an amazing low-teed driver around the left side that somehow missed all the trees, got a kick off the stairs, and found a back pin!
We believe this hole changed slightly from the video demo shown below, where a 4-wood could actually get over the second obstacle.  So, you'll need to go around or through it instead.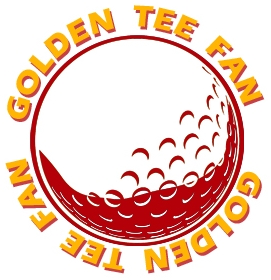 Golden Tee Fan is a Golden Tee addict from Chicago, IL, thirsty for tips and tricks!
Email this author | All posts by Golden Tee Fan