Coconut Beach — Hole #15: Par 5
By
Golden Tee Fan
• Category:
Coconut Beach
•
The only legitimate chance of eagle here is to look to the right towards the green, and locate the shortcut patch.  Depending on the wind, you'll play a couple different types of shots.  With a headwind, you'll want a high tee, loft and an accurate line through the middle of the structures to nail the patch.  Here's an example shot to the shortcut patch towards the line of the green, although the ball seems to have disappeared in the video :).  If you are going to miss, aim a bit right, because you can still bounce back off that hill onto the fairway patch.
With a tailwind, it's very difficult to hold the patch with a high tee.  Instead, use backspin and still aim for the middle or right edge of the patch.  If you nail the distance, the backspin will hold the ball there.
If the wind is blowing left, you'll need to shoot a 180-type shot out to the right to combat the wind.  You'll normally use a high tee here to help with elevation through the gap, but it's not absolutely necessary.  You can also play a small cut shot from left to right to help the ball stick.
From here, you should have plenty of club to reach the green with any wind.  This driver took advantage of the hill to roll back in.  With a pin on the left, I recommend a driver with backspin.  If you don't apply backspin, your ball may get stuck on the side of the hill, and there isn't a risk of spinning back in the water with that setup if you carry the green.  And this shot is not for most of us, but check out this incredible driver skip from this spot.
If you get wet with this difficult tee shot and you don't get a drop that allows you to reach in two, consider shooting ahead to the grassy rough on the next inlet up to the right.  From here you'll have a much shorter approach shot and more green to work with.
Since you are not guaranteed a birdie drop if you get wet trying for the shortcut, the route to the left could be for the birdie player, or if you want to try to preserve a good round with a tough setup.  Hit your drive out there, and hit another shot towards the end of this fairway.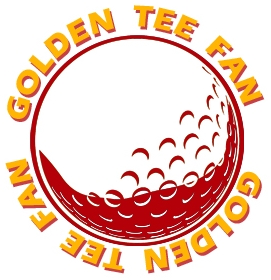 Golden Tee Fan is a Golden Tee addict from Chicago, IL, thirsty for tips and tricks!
Email this author | All posts by Golden Tee Fan