Coconut Beach — Hole #16: Par 3
By
Golden Tee Fan
• Category:
Coconut Beach
•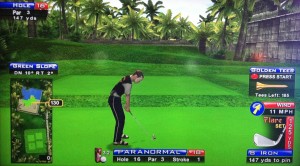 This tough par 3 usually forces you to carry the green to retain your backspin.  You'll often be in between clubs, and the wind will be tough.  Here is where you can practice your curve shots into the wind to counteract it, especially if you need to cut into a tough pin placement.  Be creative — use a low tee if it will help, and do your best to stay dry and keep your round alive.  There are so many tough setups here that it's hard to describe them all, so here is where you get your practice with curving lofted irons in tough winds.
If you find yourself faced with a putt that will roll into the water if missed, it's a good spot to lag putt closer to (and level with) the hole.  Preserving a par here is much better than losing 2 strokes and still being faced with the same putt again!
Here's a great ace from the back left box to a tough pin.  Here's another one from there getting a nice hop to a left pin.
Watch this one get sucked in from the front left box.  Sometimes you'll have to play some pretty extreme angles — check this one out from there as well.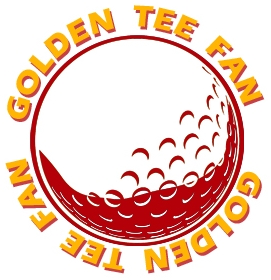 Golden Tee Fan is a Golden Tee addict from Chicago, IL, thirsty for tips and tricks!
Email this author | All posts by Golden Tee Fan