Coconut Beach — Hole #18: Par 4
By
Golden Tee Fan
• Category:
Coconut Beach
•
This is perhaps the toughest eagle in 2013, and I'm not even convinced that sticking the green is possible under certain conditions.  Many of the aces I've seen here were "luckily" intercepted by the hole.  If you miss, then left and slightly long is the place to be!  That being said, there are ways to attack this hole for each setup.
In general, with a headwind or wind blowing left, you'll want to float around a high-teed wood trying to land the left part of the green, where it will then settle for a putt.  With a tailwind, you'll likely want to retain backspin to keep from rolling off the back of the green, but that also makes it hard to keep from sucking off the right edge.  We'll talk about a right-blowing wind farther down.
From the front box, you can go right at this one — this 3-wood stayed under the leaves and found the hole.  Those leaves are pesky, and if you can find a way to stay under them, it's certainly to your advantage.  Any higher loft requires your shot to be taken way out left to start.
From the middle-right box, here's a high-teed 5-wood with a ton of cut that found a right pin.  However, that one got kind of lucky to miss the leaves.  You'll usually want a low-lofter to stay underneath — here's a perfect shot with a low-teed 4-wood.
From the middle-left box, this high-teed 4-wood found the hole.  And here's a 3-wood with backspin for a nice ace as well.
From the back box, here was a high-teed 3-wood intercepted by the hole.  It can also be shut down from here, so lay up in the fairway with a tough look.  Another option is to look around the right side!  Check out this driver curved around the right that caught the front of the green and bounced up and on.  Here's another example of that driver around the right.
Now, something else to keep in mind with a wind blowing hard to the right is that a low-teed driver rammed into the hill by the green can pop up, where the wind can carry it on!  This can help you hold the green where it would otherwise be very tough to stick with that wind.  This is actually the preferred shot among many pros given this wind, but it certainly takes some practice.  Check out this ace with the low-teed Ballista driver from the left center box!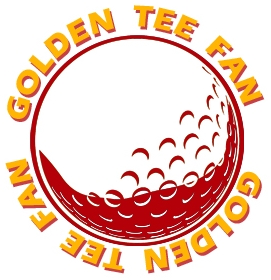 Golden Tee Fan is a Golden Tee addict from Chicago, IL, thirsty for tips and tricks!
Email this author | All posts by Golden Tee Fan