Coconut Beach — Hole #3: Par 5
By
Golden Tee Fan
• Category:
Coconut Beach
•
Here you'll almost always play a driver straight ahead to just behind the back-left fairway trap.  This is the safe play, and the farther left you can stay, the straighter approach you'll have — this one played the wind nicely.  Here's a nice 7-wood curved around from well behind the fairway sand.    Even if you end up quite a ways back, you can still work a shot around, so make sure to give yourself something — this 3-wood was played beautifully around.  Just don't miss left off the tee — you can always work something around on your approach if you are in the center!
If you have Flares, you'll often practice your B1 shots around the tree guarding the approach (although if you are back far enough, a 9-wood will go straight over the left side of that tree).  You'll normally pull back a bit left of center and hit it hard out left around and over the tree.  Visualize the shot to determine if you want to apply any type of spin once it hits the green, and remember that B1-type shots kill a bit of distance, so don't be short.  With this tricky green, you should again try to give yourself a putt, even if it's a long one.
This shot actually went under and around the right side of the tree, found some sand, but still bounced up and in!
For aggressive players, you can rotate right and play a big C3 off the tee to try to thread the fairway sand for a straight approach shot.  These shots often end up left, which can certainly pose a lot of problems.  Even if you happen into the sand, you may still have a shot.  If you don't have a shot straight at it, check out what this creative player did, banking it off the opposite wall at the perfect angle and finding the green!  This guy did one better, actually finding the hole…amazing!
Another option that's fairly reliable is to rotate another spot left and play a 3-wood or 4-wood into the rough to the left of, and behind, the wall.  From here, you'll have a driver or 3-wood straight into the green without having to worry about a curve shot!
You can also miss way to the left of the wall to the left of the sand, in that brick area — if you are far enough back, a 5-wood gets over the wall with a straight shot at the green too!
Now check out this amazing shot that was way off but somehow got a couple deflections back in the hole!
There's also a tee box much closer possibly only available in casual play that lets you hit your drive well past the sand for an open approach shot.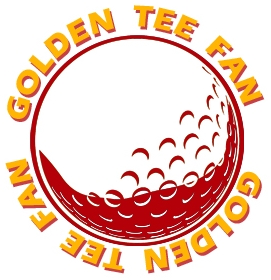 Golden Tee Fan is a Golden Tee addict from Chicago, IL, thirsty for tips and tricks!
Email this author | All posts by Golden Tee Fan