Coconut Beach — Hole #5: Par 4
By
Golden Tee Fan
• Category:
Coconut Beach
•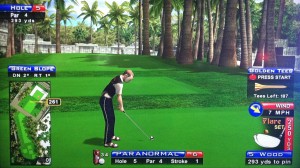 The left box here gives you the straightest shot at the green, usually requiring only a small cut around the trees.  Here's a nice driver to a back pin.
From the front box, you can either take aim at the pin and play a B1-type shot into the green, or rotate left and curve it around that way.  The B1-shot from here is riskier because of the tree leaves protruding out to the left.  This 3-wood backspun into the hole from the front box.  A 5-wood is another common option here with backspin.
Here's an awesome 4-wood from the middle-right box.  This box also presents an opportunity to low-tee a driver to play an easier B1-type shot around the trees, but under the leaves.  A smoothly hit driver from that box can work as well.
From the back box you'll have the same options as the middle.  You can choose to play a cut shot with a driver, being careful to stay clear of the trees, or you can still try to aim slightly left of the green, pull back slightly left, and shoot your driver out to 1 to play a smaller curve around.
Backspin is a good idea with pins on the right, but consider no spin if the pin is on the left to give yourself a closer putt.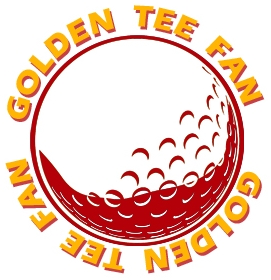 Golden Tee Fan is a Golden Tee addict from Chicago, IL, thirsty for tips and tricks!
Email this author | All posts by Golden Tee Fan