Coconut Beach — Hole #6: Par 5
By
Golden Tee Fan
• Category:
Coconut Beach
•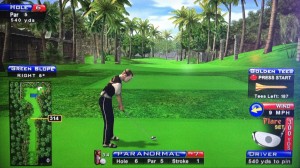 This par 5 is difficult to get close in two because of the narrow fairway and the pesky trees hanging over the green.  However, I've found a strategy that works pretty well most of the time.
With any type of wind except a strong tailwind, you can lay back in the fairway for a driver approach shot.  I usually take the distance to the hole, subtract 300, and then put a drive at that distance to the middle-left side of the fairway.  From here, then, you'll have about 300 yards.  Line up with the green, apply backspin, pull back slightly left of center, and blast a shot hard out to 1 on your follow-through.  The shot will curve around the trees but under the leaves, and the backspin helps it settle on the green for a putt.  Here's an example hole-out.
If you have a tailwind and the Flares, leave yourself about 210 yards from the left edge of the fairway.  From here, a 9-wood can work over and around the left edge of the tree guarding the approach.  This 9-wood was able to take straight aim over the left side to a center pin.
Planning ahead makes this eagle easier, but you can still try to curve your approach around from other places and setups.  You'll just have to play a big curve way out to the left on the approach to avoid the trees.  Here's a nice bender around the tree on this tricky approach shot.  The further out your drive travels, the more you need to angle your approach shot away from the trees — here's another nice hole-out.
With the front box maybe only seen in Casual Play, or with a huge drive from the next closest box, you can blast a drive out into the rough on the left.  From here, your approach may be straight under the tree to the green.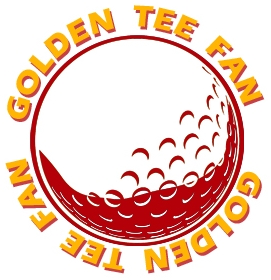 Golden Tee Fan is a Golden Tee addict from Chicago, IL, thirsty for tips and tricks!
Email this author | All posts by Golden Tee Fan