Jackrabbit Junction — Hole #12: Par 5
By
Golden Tee Fan
• Category:
Jackrabbit Junction
•
From the tee boxes closest to the green and a hard wind blowing at the green, this hole can be drivable!  From the front box, you can high-tee a driver and blast a shot straight at it.  From the next box, there is also the potential of aiming straight at it, although there's risk of clipping the hill this way.  However, this one did carry over and found the cup for the ace — awesome!
Curving an A1 shot through the gap in the cacti over the hill, but of course it's riskier — this one had a little deflection but almost buried in the hole!  A C3 shot from the right side won't have enough elevation to clear the hill cleanly, but it can trickle over down to the bottom at least.
If you come up short and roll back down the hill, it looks daunting, but you can still get over by either hitting a 5-wood with roll, or by blasting a 9-wood that should also trickle over.  The safest option is probably to turn left a couple times for the 9-wood over the left end of the mountain, and then you'll have an open wood shot into the green to save birdie.
Otherwise, you'll want to lay out towards the right edge of the fairway, ideally in the little section that juts out right.  This is much more important if the wind will be in your face on the approach.  And the farther out you get, the straighter your approach can be.  This driver curved around the cacti nicely and found the hole.  This one was more in the middle of the fairway but had a tailwind, so here's a nice one-hop driver right at it.
Even if you fall off into the dusty rough to the right, it's generous enough that you can still get there — so aim long and right to get a straighter shot in to the hole!
Finally, especially with a headwind, there's a little shortcut patch down to the right where you can lay up.  From here, you can take something like a 5-wood over the top through the cacti at the green.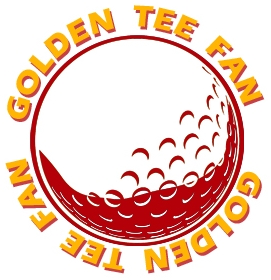 Golden Tee Fan is a Golden Tee addict from Chicago, IL, thirsty for tips and tricks!
Email this author | All posts by Golden Tee Fan