Sequoia Grove — Hole #13: Par 4
By
Golden Tee Fan
• Category:
Sequoia Grove
•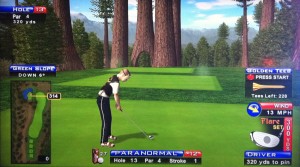 Most of the time, you'll be trying to hit a low-lofted shot through the hole in the bottom of the tree.  However, it's very easy to miss high and ram right into it.  The trick is to try to land your ball well short of the green, because you'll get a lot of bounces downhill through there.  Just pretend the green is about 20 yards closer.  If there's a back pin, consider adding roll to get the extra distance you need.
There are several options when shooting under, dependent on the tee box.  From the back box, here's a smoothly-hit low-teed driver that bounced along into a front pin.
From the second farthest box, here's an example of how you can play it short and let the slope and bounces do the rest — a 7-wood that came up short just continued to bounce…all the way into the cup!
From the second closest box, this low-teed 3-wood found the hole.  This low-teed driver barely made it under and took some big hops into a back pin.  The 7-wood shot can work here too if you land it short!
If the wind is blowing left, I strongly advise putting a little left-to-right cut on your shot to prevent it from hopping all the way left into the water after it gets through.  Here's an example by one of the best.  Here's another professional effort.
There is also a small gap to the left of the tree that makes a drive around it possible with a wind blowing right, but it's a bit risky — this high-teed 3-wood found the hole!  This medium-teed 3-wood also got through and kissed the pin before sucking back in again — nice.
Finally, if you are Damage Inc., you can bring a shot around the right side — just unbelievable.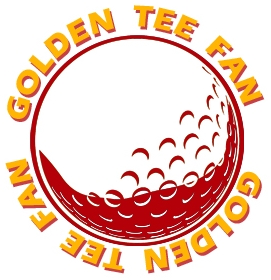 Golden Tee Fan is a Golden Tee addict from Chicago, IL, thirsty for tips and tricks!
Email this author | All posts by Golden Tee Fan