Sequoia Grove — Hole #17: Par 5
By
Golden Tee Fan
• Category:
Sequoia Grove
•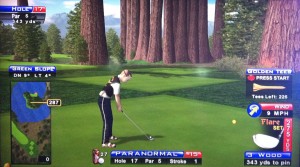 Incredible risk here if you want a double-eagle chance.  It's very easy to stroke-limit if you get stuck in amongst those trees, and then your round is gone.  This driver got through the tiny gap and found the hole for an ace!  This 4-wood found the hole, but on the second try for eagle instead.  And this shot got a couple fantastic deflections off the trees for another ace!
Another risky yet sometimes profitable option is to play a big curve around the left side, where there are some gaps to sneak through.  This one settled just off the green!  This one rattled around and kicked back on as well.  And this one very nearly found the cup!
This drive got long enough out to the left to leave a fairly straight approach shot, cutting back right slightly into the hole.  Here's another one played very nicely back into the green.  Remember not to pull back too much left of center on this shot — if you do, you'll slam into the tree instead of going around it.  It's more about the push forward towards 1 here to get it out instead, and keep your pull back fairly close to B.  This one actually grazed the tree, but due to the wind, it blew back on…and found the cup!
If you shoot around the side, there's also a small gap you can shoot through instead of trying to go completely around the trees and cut back in — this one made it through and found the hole.  Just try to line your drive up with the sand trap to the left of the fairway to give yourself a shot through here.
Finally, check out this amazing pinball recovery from a drive that looked lost in the trees!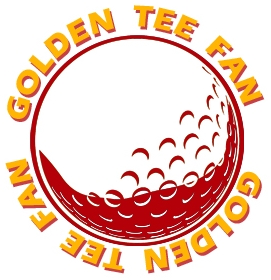 Golden Tee Fan is a Golden Tee addict from Chicago, IL, thirsty for tips and tricks!
Email this author | All posts by Golden Tee Fan