Sequoia Grove — Hole #18: Par 4
By
Golden Tee Fan
• Category:
Sequoia Grove
•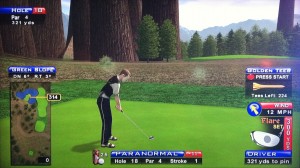 Here is a fantastic low-teed driver cut through the gap and into the hole.  This one came in pretty hot after a big hop and an out-wind but still found the hole!
If the wind is blowing hard left, you may need to rotate another click left and play more of an A2-type shot instead of the normal A1 cut shot.  The wind didn't look too bad here, but here's an example of that shot.
If you can control your distance and also if you potentially have a tailwind where it'd be tough to stop even a low-teed driver, you can low-tee a 3-wood through the gap as well.  Just don't hit it too hard because you need to keep it low!  If the wind is blowing out, you can land a bit short and let it bounce while the wind carries it down.  This 5-wood with a medium tee also got the job done!
The 2-hybrid can also be a very useful club for this shot — here's a great one.
Finally, I'll bet you didn't know there's a small gap up high right through the trees as well.  It's too risky for most of us to try, but check out how this one bounced through and found the hole — amazing!
Also, this driver was severely undercut, but it somehow found its way around the left side of the gap and into the hole!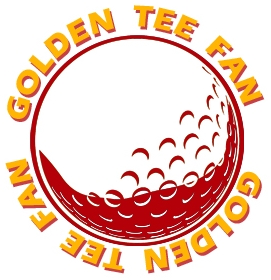 Golden Tee Fan is a Golden Tee addict from Chicago, IL, thirsty for tips and tricks!
Email this author | All posts by Golden Tee Fan