Sequoia Grove — Hole #5: Par 5
By
Golden Tee Fan
• Category:
Sequoia Grove
•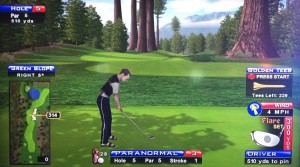 This tricky par 5 forces you to plan ahead, because you have a couple options for your approach shot.  One common approach is to lay up towards the left edge of the fairway before the trees.  Here's a 9-wood curved through the left gap that got a nice bounce into the hole.  This 7-wood also got it done nicely.
Another option is to blast a drive out into the rough to the right…if you can get far enough, you'll have a straight-in approach to the green.  This drive was also placed nicely to take the water out of play, since the approach travels over the rough towards this pin instead.  The sand can also work.  Here's an impressive recovery from the sand on the right!  Just be sure to clear the water, and realize that backspin won't be as effective, so front pins can be tough to stick close.
It's riskier, but you can try to play the fairway down in front of the sand, which rewards you with the easiest approach — here's a hole-out from there.
Also, you could lay up to the right edge of the fairway just short of the sand, which sets up for a curve shot around the right side into the green.  This approach did not go as planned, but check out the incredible deflection.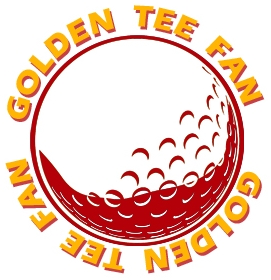 Golden Tee Fan is a Golden Tee addict from Chicago, IL, thirsty for tips and tricks!
Email this author | All posts by Golden Tee Fan