Greek Hills — Hole #15: Par 5
By
Golden Tee Fan
• Category:
Greek Hills
•
You can't get there in two hitting out to the right, so you'll be playing a small curve around to the left, short of the water, for one of three different types of approach shots.
Actually, there is a layup spot ahead in the rough that can give you an open look at a right pin — check it out!
First, you can float something like a 3-wood around the right side of the mountain to settle down on the green.  This works best if the wind helps out blowing left.  Also with a left pin, this driver carried over and around and backspun in the hole.
With the driver, you can also potentially use that C3 shot around the hill to skip off the water and hold the green.
Many times, though, you can roll a shot up and over the hill straight at the green.  Most any type of club works, but the more loft you can get away with, the better.  For instance, with a headwind, a great shot could be hitting a 3-wood with roll into a spot on the hill that will hit and carry over without catching any trees.  With a tailwind, perhaps bite or no spin can work, so that your ball doesn't carry into the water after rolling down the front of the hill!  This 5-wood went into and over the hill and found a right cup.  And this 5-wood hit and rolled down into a left pin.
This shot looked like it had problems, but after a rock-deflection it somehow finds the hole!  And this driver manages to deflect over and float down for a perfect dunk!
If you end up short of the green, consider that this putt jumped the grass and found the cup!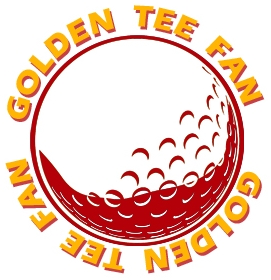 Golden Tee Fan is a Golden Tee addict from Chicago, IL, thirsty for tips and tricks!
Email this author | All posts by Golden Tee Fan