Pelican Grove — Hole #15: Par 4
By
Golden Tee Fan
• Category:
Pelican Grove
•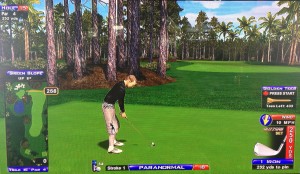 From the left box, you can either punch a low-teed 1-iron or 2-hybrid through the tree gaps right at the green (more risky), or you can take the shot around the left side and curve it back into the green (less risky) — here's a great 2-hybrid ace to a back pin.  With an out wind, this low-teed 2-hybrid actually skipped the water straight at it!
This 5-wood took a loftier approach to ace a front pin.  And this was a wonderfully-played 4-wood swerve around the trees as well.  Here's one more example with the low-teed 3-wood.
If you slide right, you may be able to take a 5-wood up around the right side still, accounting for a knock-down as it reaches the last tree by the green — check out this ace!  Or if you have a 7-wood, you can high-tee one and hope to get it up and over as well, especially to a left pin!
I don't know how this 5-wood got under/through the trees, but it also got a sweet kick off the flag and then back into the hole — crazy!
And this 2-iron attempted to go around the right side but ran into the trees…and then into the cup.  Amazing.
From the right box, this high 4-wood floated over the top and settled in the hole.  This 5-wood used the leaves to slow it down and suck back in the hole.  This high-teed 5-wood easily cleared the first set of trees in finding the cup.  This medium-teed 5-wood cut over the middle gap of those trees and settled in the hole.  This low-teed driver missed all the trees right at it and backspun in the cup!  And I don't know how this shot missed everything, but it made for a great ace.
Going low around the right is also an option — check out this amazing low-teed driver spun around the right for an ace!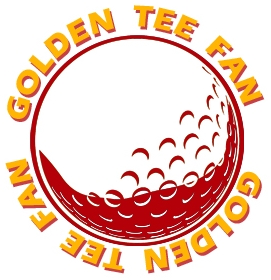 Golden Tee Fan is a Golden Tee addict from Chicago, IL, thirsty for tips and tricks!
Email this author | All posts by Golden Tee Fan