Shady Acres — Hole #7: Par 5
By
Golden Tee Fan
• Category:
Shady Acres
•
This is a really tough eagle that forces you to pull off a couple great shots to find the green.  Off the tee, very rarely you can find a setup from the back box with a big tailwind where you can play an A1 out to the left and cut out to the second fairway.  That shortcut shot that could net you a short approach — here's a hole-out from that spot!
But normally, you can cut the corner with a C3-type shot, making sure still to find the fairway.  Try to be short as well so that you end up holding the left side of that fairway, giving you more room for your approach shot.  Where you lay up depends on your clubs.  It's usually a driver approach from back by the sand, or if you have 2-hybrid or a low-iron, you can cut more off the corner to get closer to the green for your desired approach distance.
For the approach, you can take aim straight at the green and play a B1-type shot to swerve around the trees into this green — here's a great hole-out with the 3-wood.
Or, you can rotate left once and play more of an A2-type shot to create more angle into the green — this also brings the trees more into play.  A driver stays low enough to get under them though — check out this awesome shot.  A well-played 2-hybrid works great too!
There are some small gaps in the trees guarding the green that may allow an overcut approach still to trickle down on the carpet.  Here's another one with the 2-hybrid.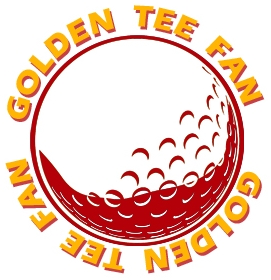 Golden Tee Fan is a Golden Tee addict from Chicago, IL, thirsty for tips and tricks!
Email this author | All posts by Golden Tee Fan