Pearl Lagoon — Hole #11: Par 5
By
Golden Tee Fan
• Category:
Pearl Lagoon
•
Many options off the tee, so let's check them out:
The islands are enticing and seemingly necessary to give you a shot at the green in two, but that's not true.  If you lay up at the left end of the first fairway, you can bring in a driver and still get there.  This is a great spot to lay up with a tailwind and a front pin.
First, you can try to land on any of the islands in the group of three straight ahead.  The best one to shoot for depends, naturally, on wind and pin placement (but especially the pin).  Let's start with the island closest to you; this one works well with the pin on the right side of the green, so you need little or no curve around the mound on your approach.  Here's an example hole-out.  And here's a 5-wood curved into a front-right pin.
The island in the back-right group of three works well with a center or right pin.
The island on the left in the group works well with a pin on the left.
There's another longer, narrow island out to the right that offers a straighter approach into the green with any pin placement.  Here's a 3-wood hole-out to a back right pin.  Here's another one curled around the ivy to a left pin.
Finally, you may be able to play it out left of the water in the rough (if it's not OB) to give yourself an open approach at the green.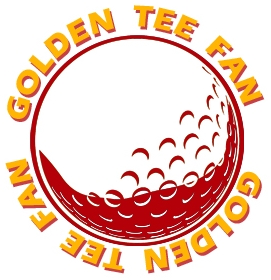 Golden Tee Fan is a Golden Tee addict from Chicago, IL, thirsty for tips and tricks!
Email this author | All posts by Golden Tee Fan