Pearl Lagoon — Hole #7: Par 5
By
Golden Tee Fan
• Category:
Pearl Lagoon
•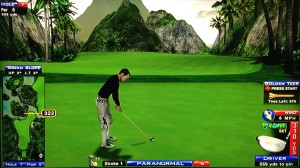 There look to be up to 3 different shots off the tee to give you a shot at the green in two, but one is the safest bet.
Most common should be to lay up straight ahead at the end of the first fairway, giving you a gap between the mountains to shoot.  Get as far to the right-center of the end of the fairway as you can without going over — this gives you the best angle of approach.  Here's a 3-wood curved into a right pin.  This drive was a bit short and left, but a 5-wood still had enough height and distance to find the hole.  And this 3-wood looked like it might hit the left mountain, but it found the hole instead.  Again proving that there's more room than you think, this 4-wood found a way through and into the cup.
Also, you may be able to hammer a high-teed A1 driver out to the second fairway and curve a shot right-to-left around that mountain into the green.  This drive was blasted far enough to give an open approach for a double eagle.
Finally, you could lay up short and left to curve an approach from left-to-right around the mountain to the green, but this can be a difficult approach to control — here's a great 3-wood hole-out from there!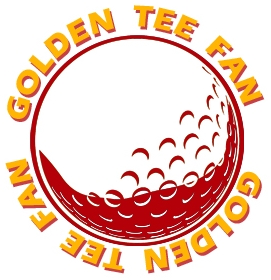 Golden Tee Fan is a Golden Tee addict from Chicago, IL, thirsty for tips and tricks!
Email this author | All posts by Golden Tee Fan