Rocky Hollow — Hole #13: Par 5
By
Golden Tee Fan
• Category:
Rocky Hollow
•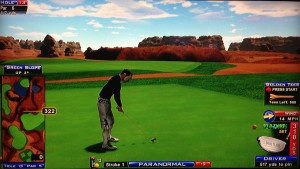 A great, consistent option here is to play a 3/4-hybrid out to the end of the left fairway, which will leave a driver straight into the green in two.  Here's a hole-out from there.  This layup spot is only problematic if you'll be left with a strong headwind into the green, where your driver approach may fall short in the water.  However, in this case, you could still try an A1 or C3 driver to get the distance you need — here's an example.
The next option is to play the lower fairway one of three ways.  First, you can look at the far end of the right fairway, which offers a fairly straight approach with a 3-wood or driver, depending on how far you can get your drive.
With a good setup, you can blast a drive as far down the left fairway as possible and then curve a controlled iron/hybrid around the corner left-to-right to the green while avoiding the water.
Or, with other setups, the play is to lay up at the very front of the bottom left fairway and curve a shot right-to-left around the rocky hill into the green.  This is NOT how you do it, but this one curved into the rock, stayed under with the curve, and somehow found the hole!  This 3-wood also got a fortunate bounce aided by wind and backspin to find the hole.  Finally, this 5-wood almost settled on top but trickled back down into a right pin!  And perhaps craziest of all is the path this 3-wood took to the cup after getting denied on the first attempt.
Finally, if you get way off track, you'll see how the moon landing (or something fishy) was staged!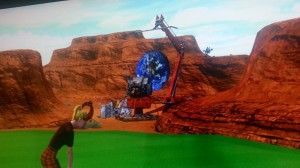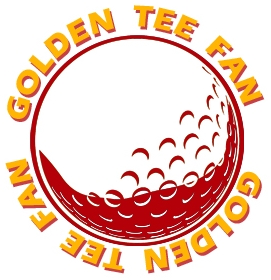 Golden Tee Fan is a Golden Tee addict from Chicago, IL, thirsty for tips and tricks!
Email this author | All posts by Golden Tee Fan