Rocky Hollow — Hole #14: Par 4
By
Golden Tee Fan
• Category:
Rocky Hollow
•
This drivable par 4 with a fairly small green will test your accuracy and distance control, but more importantly your knowledge of the required loft.  There are a few options.
From the front-right of the box, this low-teed 3-wood got under the first and over the second overhang to find the hole.  Medium-teed 3-woods should clear this gap as well if you play a little right-to-left cut.  Most common mistake is hitting too far right off the club, which will catch the underside of the first overhang.  Here's another look at it.  If you rotate right once, you may be able to better visualize an angle through.
Also, if you slide back and right, a high-teed 5-wood should get over the first overhang by playing it out right to left.  A high-teed 4-wood can work for this approach as well!
However, up and over the left side is also a great option for your approach, such as with a high-teed 5-wood — check out this shot from the back of the box.
A high-teed 6W lets you go more directly over the top from the back of the box, as seen with this ace.
Finally, a thumbed low-teed driver can sometimes get under both overhangs on its way towards the green.  Another way to take loft off the low-teed driver is to play a small cut under that gap.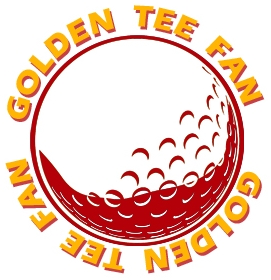 Golden Tee Fan is a Golden Tee addict from Chicago, IL, thirsty for tips and tricks!
Email this author | All posts by Golden Tee Fan