Rocky Hollow — Hole #4: Par 5
By
Golden Tee Fan
• Category:
Rocky Hollow
•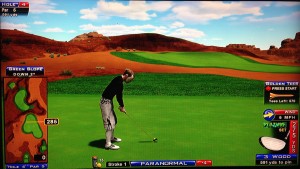 This par 5 has multiple levels – there's a lower fairway, an upper fairway, and then the green is on the lower level at the end again.
First off, if you get the front tee box, you can high-tee a driver and blast onto the rocks to the left.  You can settle in there and bring in your approach for eagle — here's an example hole-out.
Otherwise, you will lay up towards the end of the first, lower fairway, towards the right.  Being right is important because the hill tapers off that way, but being a bit short is also important so you have loft to get over the hill.  This allows you to curve a wood over that corner into the green.  Don't be afraid to take advantage of the rocky dropoff, which will carry the ball down onto the green.  This 5-wood was far enough back to go straight at the green and bounce down to the hole.  A drive laid back in the center of the fairway gives a 4-wood plenty of loft and distance straight at it. And this 4-wood carried to the fringe and backspun into the cup.
You can also curve a C3 shot to avoid the height of the center of the hill.  Check out this 5-wood that was curved around and trickled down into the cup.  This 3-wood was a bit farther back but also had enough to bounce down into the hole.
In addition, this 4-wood played an A1-type shot to curve around the left side into a right pin.
Another option is laying up short and left to give yourself a 3-wood into the green — this one caught a nice bounce off the rock on the way down to find the hole!  This one curved around left-to-right and bounced into a right pin.
If you happen to miss out to the right of the second fairway, you can catch a view of a crashed rocket ship: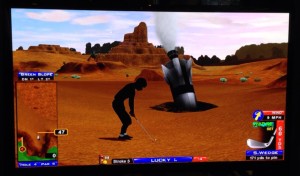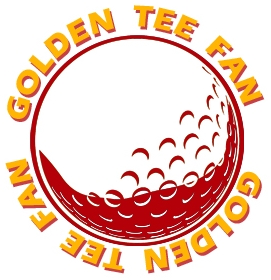 Golden Tee Fan is a Golden Tee addict from Chicago, IL, thirsty for tips and tricks!
Email this author | All posts by Golden Tee Fan