Rocky Hollow — Hole #7: Par 5
By
Golden Tee Fan
• Category:
Rocky Hollow
•
A good option here is to lay up just over to the right, and the ideal spot is to land the flat fairway just over the rocks…check out this ideal setup for a 3-wood hole-out.  Often, you will trickle down a ways into the fairway off the tee, and that's fine too — you can still arch a 5-wood over and into the green — here's a nice dunk from that area.  Here's another one from a little more towards the center with a 4-wood.  Finally, this 3-wood also had enough loft to carry and find the hole.
Another fine option is to lay up at the back center of the left fairway, which gives you enough room to loft a 5 or 6-wood over the rocks into the green.  Here's a 6-wood hole-out from the middle of that left fairway.  However, you'll more often run into loft issues from this spot, sometimes needing to bounce over the front rock into a front pin.  A 9-wood in the bag can alleviate some of those concerns.
Yet a third option is to turn left and play a high-teed driver (if needed) onto the rocks, which will leave you an iron with the necessary loft to get over the hill and onto this green in two.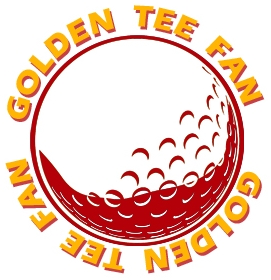 Golden Tee Fan is a Golden Tee addict from Chicago, IL, thirsty for tips and tricks!
Email this author | All posts by Golden Tee Fan