Rocky Hollow — Hole #8: Par 4
By
Golden Tee Fan
• Category:
Rocky Hollow
•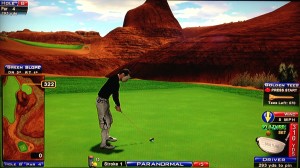 From the left box, a skilled shot up, around, and down to the green behind the hill should be required to give you a chance at eagle on this drivable par 4.  However, the hill is often accommodating to harder-hit shots that can bounce up, over, and down to the green.
Here's a 4-wood curved around the left but then off the top of the hill to find the hole.
If you don't want to mess with curves and angles, just play the wind and hit a 3-wood into the appropriate spot on the hill to let it bounce up and over.  This actually works pretty well.  Check out this 3-wood shot straight at the hill that bounces all the way up, over and down into the cup!
Finally, here's a 5-wood straight over the right side to a right pin.  This 5-wood caught the mountain but shot straight up and down for the deflection dunk!
There is a bit of room around the right side too, especially with a left-blowing wind…see how this 3-wood went around the right side to backspin into the cup.
From the back center box, there's not much issue clearing the mountain if you hit it firmly.  Here's a high-teed over the top that finds the hole.  And here's a nice 3-wood ace with the UFO providing scenery!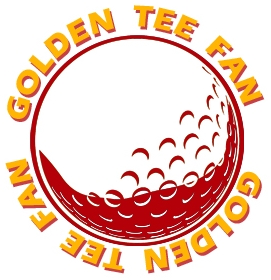 Golden Tee Fan is a Golden Tee addict from Chicago, IL, thirsty for tips and tricks!
Email this author | All posts by Golden Tee Fan