Sparkling Waters — Hole #4: Par 5
By
Golden Tee Fan
• Category:
Sparkling Waters
•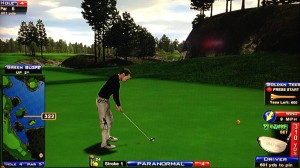 First, look to see if you can get the ball to the grassy rough island straight ahead; you'll have plenty of distance to get there in two from here.  A high-teed 3-wood straight at that island is good if you have the distance (the trees on the left are a little lower to help you clear); otherwise turn left and play a high-teed driver A1-type shot to the island instead (this can also be a medium tee if you need to curb distance…it will curl in around the trees to the rough patch).  The closer to the pin, the better, but you can get there from anywhere on here — this holeout was from the back-left of the rough.  Here's a 3-wood that bounced up and in from the muck behind the rough.  This one was also in that stuff and had enough to get up and in.
Not all of us will be able to get there in all setups, and you'll actually have a better look from the next option with a left pin, which is the fairway island short and right of the first option.  It's easier to land here with the front box; you'll need a 3/4W curved into there from the back box.  Here's a driver holeout from there.
You cannot get there in two from either of the back boxes by playing the main fairway.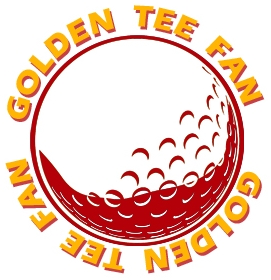 Golden Tee Fan is a Golden Tee addict from Chicago, IL, thirsty for tips and tricks!
Email this author | All posts by Golden Tee Fan