Hawthorne Manor — Hole #13: Par 5
By
Golden Tee Fan
• Category:
Hawthorne Manor
•
You're hoping for the middle box here where you can easily blast into the second fairway for a straight approach.
This hole is challenging from the back box when you cannot carry the second fairway.  One option is to settle a drive to the lower left part of the first fairway.  You could have a fairly straight or slightly-curving shot into the green from here.  A 3-wood has enough elevation; a driver might not always clear the hill if you try to curve it over, so muscle up if you can.
Finally, some players are curving their tee shots around right in the rough down by the water.  This works best with a left-blowing wind, where you may have a fairly straight shot into the green with the wind helping blow it over.  This is a challenging tee shot, though, and you won't always end up with a way to land the green, since you cannot curve the ball out of the rough.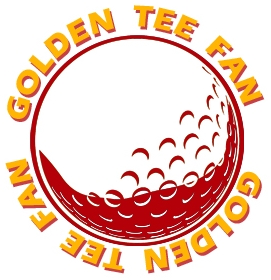 Golden Tee Fan is a Golden Tee addict from Chicago, IL, thirsty for tips and tricks!
Email this author | All posts by Golden Tee Fan