Hawthorne Manor — Hole #16: Par 5
By
Golden Tee Fan
• Category:
Hawthorne Manor
•
Know your clubs off the tee here — do what you can to get in the left or right fairway (usually left) the appropriate distance to give yourself loft over the wall into the green.  A driver won't clear on the approach, so if you're too far back, you'd have to cut a driver through the gap and hope to hold the green.  A firmly-hit 3-wood straight at the pin will clear the wall (but a poor or curved hit may not), and of course so will any higher lofted club if your drive is longer.
With a front tee box, play fairly straight over the wall with a high-teed wood to the left fairway…you'll be good for your approach.
With a back box and a decent wind, a high-teed 4-wood is plenty elevation to get over the left wall.  But with a tough wind, consider rotating right once and playing a high-teed driver or 3W around and through the gap in the walls to the left fairway.  Focus on sticking the fairway, because if you miss, you can't reach in two.
With a long drive, this 7-wood cut nicely into a left pin.  This approach shot was likely in-between clubs, so a small cut with a 3-wood was a smart move to find the gap into a back pin.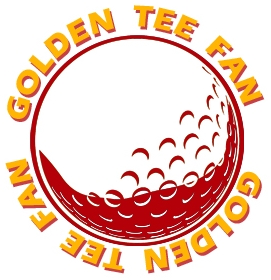 Golden Tee Fan is a Golden Tee addict from Chicago, IL, thirsty for tips and tricks!
Email this author | All posts by Golden Tee Fan