Volcano Palms — Hole #7: Par 5
By
Golden Tee Fan
• Category:
Volcano Palms
•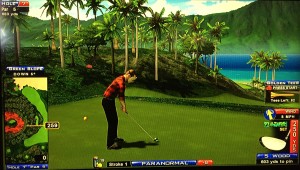 From the left box, the enticing approach is the fairway peninsula straight ahead between the lava.  However, distance control with backspin is a must…the downward slope will project many a shot forward into the burn.
From the right box, the fairway shortcut area seems like a nice spot, but you'll still have an awfully difficult approach even if you land it, since you'll still shooting through/around trees to the green.  This is not usually a good option.
The best situation from the right box is still the shortcut area in the middle of the lava, but those pesky trees make it tough to hit.  One option is a low-teed driver with backspin.  There is a gap on the way there with tree leaves left-center, upper-right, and lower-right.  It has the right trajectory to get between the leaves on the right side of this gap, so as long as you avoid the left-center leaves, you should be okay.
Another option from here is a high-teed 5-wood, which will go over the trees…obviously it's tougher to stick the downward-sloping landing area, but this can work too.
If you're a big hitter and have a great wind towards the hole, you can turn right and play a huge C3-drive to the main fairway, hugging the left side, to get you close enough to get there in two.  Here's a driver hole-out.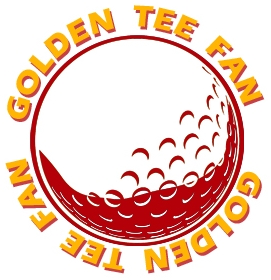 Golden Tee Fan is a Golden Tee addict from Chicago, IL, thirsty for tips and tricks!
Email this author | All posts by Golden Tee Fan