Winding Pines — Hole #15: Par 4
By
Golden Tee Fan
• Category:
Winding Pines
•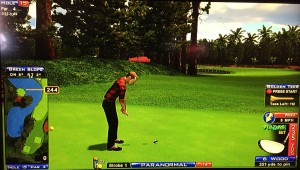 Popular advice for amateurs is not to try to go for the green on this one.  There's a tiny gap on the left you can go over, but there's also a gap over the bench and under the trees with a 0-hybrid that takes a lot of practice.
If you do try the high side, a right-blowing wind is best, and a high-teed 5-wood or 6-wood will likely be the club.  Here is an amazing high-teed 5-wood that bounces around the tree by the green and settles in the cup!
The consistently-available shot here is the low-teed 0-hybrid.  Line up so you are one-click left of the green (some prefer two-clicks left).  Use a tee and put your golfer in a position by the bench but far enough to get over the bench and close enough to get under the trees (this is where practice comes in).  Your ideal shot goes around the left edge of the trees with a firm A1-type shot and backspins through the trees by the green, up over the hill, and settles for a putt.  Here is a great 0-hybrid punched through the left side to find a back pin!  Here's another amazing 0-bird backspun to a front pin.
Also, you may find a chance with an outwind by ramming a driver through the trees, which can land by the green for a chip.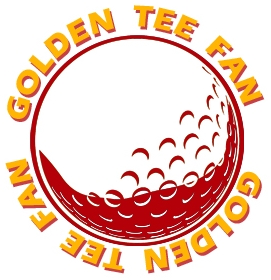 Golden Tee Fan is a Golden Tee addict from Chicago, IL, thirsty for tips and tricks!
Email this author | All posts by Golden Tee Fan