Pine Coast — Hole #18: Par 4
By
Golden Tee Fan
• Category:
Pine Coast
•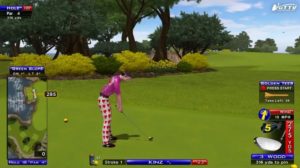 This is a really tough finishing hole from any tee box.  Even if you're fortunate enough to get a setup where you can shoot around the right of all the trees, you're still coming in with the slope and it'll be hard to stop with any accuracy.  Other setups force you to shoot under/through the trees and cut into the green.
From the front-right box, this low-teed 7W stayed under the tree and found a front pin.
From the front-middle box, this 7-wood went around the right side to find a back-right pin.  Taking a different approach, this 3-hybrid went through the center gap in the trees for an ace!  And here's a very interesting shot — a driver with backspin, shot straight through the bush on purpose so it would kill the distance, finds a back-right pin!  This shot works with anything from a 3W for a 200-yard shot to most drivers for something farther.  With the 3W it's best to move up in the box but not needed for drivers…just ram straight through the bush towards the pin and watch it happen!
From the front-left box, this low-teed 6-wood cut through the left gap in the trees and settled into a front pin!  A number of other clubs can work here too, including a low-teed 4W, 5W, low 7W, 2-iron, or a 3-hybrid.  Here's a 3-hybrid cut through with backspin to a right pin.
From the back box, here's a perfect 3-wood cut around to a center pin.  Here's another nice 3-wood to a front-left pin.  Also, here's an incredible low-teed driver straight through the trees that jumped up to a back-right pin!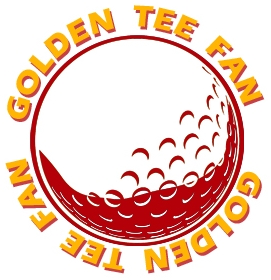 Golden Tee Fan is a Golden Tee addict from Chicago, IL, thirsty for tips and tricks!
Email this author | All posts by Golden Tee Fan