Ruby Rock — Hole #4: Par 5
By
Golden Tee Fan
• Category:
Ruby Rock
•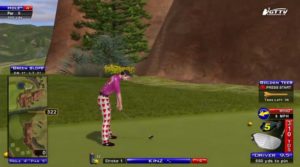 Take advantage of setups where you can drive the second fairway, which makes this hole a lot easier.  This should always be possible from the front and middle box (from the middle box, play a big C3 out there to the left side of the second fairway).  Here's a 7-wood hole-out from there.
With a back box and/or tough wind, the safest play is on the downslope of the left side of the first fairway, from which you'll be able to curve a wood around into the green (although this is typically a pretty tough shot).  Here's a very nice 3-wood hole-out from there.  The middle of the fairway can be okay too…better than being left in the rough too far up the hill.  Here's a great curved-in driver to a front pin!
It's a riskier tee shot, but especially with a left pin, you'll have a straight shot into the green by driving farther down into the rough left of the first fairway.  You won't be able to put any curve on the ball out of the rough, but a straight shot in is nice…there's not as much elevation to clear as you might think from towards the bottom of the hill.  Here's a picture of the look from there.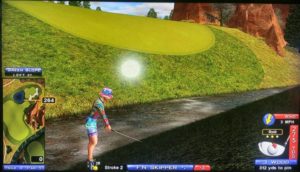 Another option, usually less successful at eagle, is to look short and right over the mountains to the grassy landing area before it drops down to the stream.  You'll want to be back a bit so you aren't too far down the downslope, and also usually pretty far right to give yourself a shot into the green.  Being too far left is no good because you can't curve your shot out of the rough.  This affords you a 3-wood or driver through the gap so you can at least reach the center of the green.  Here's an example shot from that area.  You can see how a 5/6-wood is good from this spot, but you also see how you'd be in trouble if the pin was on the right side of the green.  Due to the difficulty to accurately place a tee shot where you need it, given a certain pin placement, I don't usually recommend this spot off the tee.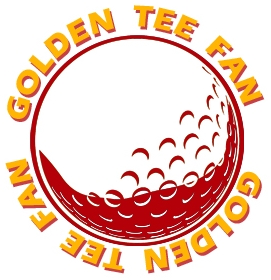 Golden Tee Fan is a Golden Tee addict from Chicago, IL, thirsty for tips and tricks!
Email this author | All posts by Golden Tee Fan