Sandy Reef — Hole #18: Par 5
By
Golden Tee Fan
• Category:
Sandy Reef
•
From the front box, you can carry out to the second fairway to give yourself more options to curve around a wood on the approach to stick the green.
Especially with the back box, you can just lay up left in the first fairway.  If you are back far enough and/or have a headwind, a straight driver thumbed into the green can be a great approach.  Here's an example hole-out.
A hard-hit 5-wood can clear the trees straight at it if the distance is right.  You can also curve around a 3-wood into the green with backspin or bite to give yourself a putt, but your look is always offset so it's very challenging to get the curve right.  On top of that, it's a nasty-shaped green with water all around, so having a clear putt at the hole is a big win.
If you can hammer your drive out far enough left, you can avoid most of the trees altogether…check out this 4-wood with a small cut that got a very nice bounce into the cup!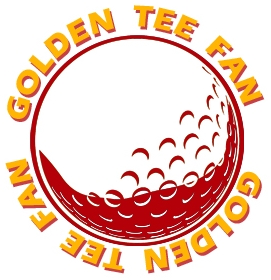 Golden Tee Fan is a Golden Tee addict from Chicago, IL, thirsty for tips and tricks!
Email this author | All posts by Golden Tee Fan