Calypso Key — Hole #11: Par 4
By
Golden Tee Fan
• Category:
Calypso Key
•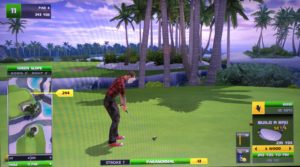 You can go right or left around the trees, or over the trees, depending on the box and setup, but be careful of the rock overhang guarding the right side!
From the front box, this 5-wood cut around the left side with backspin for an ace.  And this medium-teed 6-wood also cut around the left and over the left side of the trees.
From the center box, here's a high-teed 5-wood around the right side for an ace.  And check out this 0-hybrid perfectly played under the overhanging rock to find the cup!
And here's a high-teed 5-wood around the left side as well!  This 4-wood took a more extreme angle to bounce down and deflect into the cup!  This high-5 showed you can be short and trickle down to find the hole too.
This high-teed 3-wood went a bit right and then over the rest of the trees en route to a wall deflection for an ace!
From the back box, a low-teed, lower-loft driver can be played to the right to get under the overhang onto the green.  This driver caught a great bounce into the hole for an ace.  Over the top can also be an option – check out this high-teed 5W with barely enough distance to trickle down in the hole!
There's a newer tee box in the back-right as well, still allowing you to go over/under at the green.
But there's also a new tee box in the back-left from which you can't reach the green and need to lay up for a shot at birdie.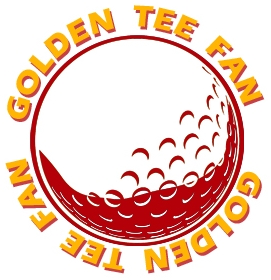 Golden Tee Fan is a Golden Tee addict from Chicago, IL, thirsty for tips and tricks!
Email this author | All posts by Golden Tee Fan