Calypso Key — Hole #14: Par 5
By
Golden Tee Fan
• Category:
Calypso Key
•
There's an island out left, but it's very narrow and difficult for most of us to hit.  If you can land it, it's usually a driver in from there.
There's an island out right that is more reasonable, but even if you land it, you still have a tough approach shot you likely need to curve into the green.  Here's a great 3-wood hole-out from there.
You can also play straight ahead to the left edge of the main fairway, not too far down.  From here, you can curve something like a 7-wood around the left of the hill into the green, and the sand helps soften the bounce on the way in as needed.  Here's a great hole-out.  Laying back further, this 5-wood was a great play curving into the cup.
An 8/9-wood may have a chance of clearing the hill and missing the trees straight over into the green from the main fairway.
Finally, some guys are blasting a high-teed driver up top among the trees and rocks and hoping to have a clearing to pop a wedge or iron down into the green…it's a decent play that usually assures you birdie at worst.
The newer tee box in the back-right takes the shot to the left island out of play, so it's an easier play to the right layup spot if you'd like.  With a good setup, you can also blast around the hill to the sand between the hill and the water and have a nice approach into the green from there!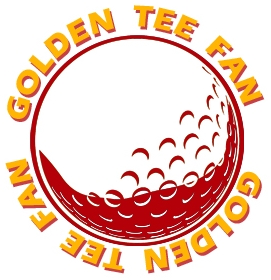 Golden Tee Fan is a Golden Tee addict from Chicago, IL, thirsty for tips and tricks!
Email this author | All posts by Golden Tee Fan