Gearing Up for Golden Tee 2018!
By
Golden Tee Fan
• Category:
2017 -- Golden Tee Live 2018
,
Features
•
Excitement is building for the new release of features and courses, and here is where you can get a consolidated summary of everything happening!  Check back here often as your source for all the latest that Golden Tee 2018 has to offer.  Here's the GT 2018 launch preview!
Here's the attract mode video featuring the new logo for 2018.  And to start off, why not listen to a discussion with course designer Jim Z. as he talks with us about the new courses and features!  And here are some additional photos of the new courses.  Here is the full 2018 trailer to get you ready!
Now, the courses!  We've got 5 new ones as usual…click the links below to see a course overview and pictures:
Calypso Key
Mayfield
Rhineland
Royal Dubai
Safari Dunes
In addition to the 5 new courses, we're going to get a chance to play two reimagined courses from the Golden Tee Fore era!  These will come out at some point post-release so we get to focus on the 5 new courses first.  Read about Mystic Hills first and watch a preview.  The other course to come out will be Rattlesnake Ridge!  This will be a great way for veteran players to catch up on these legacy courses and new players to get a taste of some old designs!  The courses are constructed exactly the same but with new technology to bring them into the LIVE era.  While some will play easier because of the new equipment and shot types available, you'll notice some holes are much more narrow and the greens are smaller!  If you're interested to hear the new theme for GT Fore, here it is.
Also coming later in the release will be time-released tee boxes.  After a certain period of time, we'll start to notice new tee box areas in play!  Not only that, but some will be very different, perhaps even changing par on the hole.  One will even have you attacking the hole from a different direction!
Building on the success of Freaky Fridays, you'll start seeing the Monday Mix-Up, another variation available for play as part of the daily contest!
Another exciting addition is a new shot type called "release".  This will function like bite in reverse, or a less-drastic version of roll.  It should be great for a casual player to get a bit more aggressive and will also help others with chipping around the green too without the threat of rolling over the green!
Build-A-Bag 2.0 will be here with new features as well!  First, you'll be able to make cosmetic changes to your club, such as changing the color of the club head, shaft and grip.  There will also be modifications made to the ball tracers with the Build-A-Ball feature with more colors, things that adjust based on how hard you hit the ball, a variety of new options and improvements to highlight more of the tracing itself…we'll see what's to come here!
The new clothing is always anticipated each year, and 2018 will continue to deliver.  But once again we get to see brand new golfers in the game this year…you'll notice new models and faces that look much more natural.  You'll even have body suits, including fat, muscle, mascot, speedo, and shirtless!  And instead of being limited to one headwear item or shirt, you'll be able to add more accessories, like that cigar or even gloves on top of what you already have.  Finally, some subtle animation has been added so that you can see your golfer move around a bit pre-shot!
In addition to the always creative clothing options, there are 16 new custom putters added for 2017!  Check them out here: The Tall Boy, Thigh-High, My First Putter, The Mighty, Hot Dog on a Stick, Venom, Ethel, Drip-Drop, Hot Mic, Bender, Buried Treasure, Bones, and more to come…you can find them all in the GT Caddy app.
New clubs and balls are back in 2018 as well!  Regarding club sets, which were revolutionized with the Build-a-Bag option, Golden Tee has built on this feature to offer a couple of the most popular combinations as complete sets for you in 2018.  First, we have the Players' Choice for 2018, a collection of the most popular clubs for a well-rounded attack at any course.  Next, there's Play Like a Champion, a set assembled for players of all skill levels by world champion Mark Stenmark!
In addition, there are two new virtual ball options with some new features…check out the Rambler and the Vanguard!  These balls will decelerate differently and not brake as much through the ground…we'll have to check them out!
Freaky Fridays have made their way into Invitationals ahead of the 2018 release…now you can challenge your friends to some of the most popular designs featured on the Friday Daily contest throughout 2017!  And with the 2018 release are more enhancements to Invitationals to make them bigger and better.  You'll have the option to play in contests with up to 100 people for up to $1,000 in prize money!  It's worth noting that the maximum entry per person will remain at $25.  The other great feature is that you can set a size limit so it's really first-come, first served…no more waiting on that last guy to join!  Invite 10 and kick off when you have the first 5 accept, or whatever you choose to set up.
2018 brings a whole new in-game user interface!  It'll be similar to before but once again advanced to better fit the information you need and allow you to navigate around easier.  The big news is the addition of a shot-height meter!  This will help with shooting over objects, trees, whatever by showing how high your shot reached…pay attention and learn for the next time!  The data has always been there, but now it's exposed to help us know the height of our shot.  Also, we'll be able to see a display showing exactly what surface the ball is sitting on – this will be especially nice by the green/fringe/rough to know how the lie will impact your shot.  Players could mostly tell this before by gauging the distance lost when changing clubs, but now this information is more clearly exposed as well.
Along with the new user interface, you'll have a "camera lock" feature.  Everyone has a favorite camera view and you're accustomed to clicking that button after each shot.  But now, you can lock in that view by holding down that button, and it'll be set for each shot!  You can still unlock it or click the buttons for different views as before, but this will be a fun feature similar to quick-shot.
Finally, for the casual player, there are a couple of great new features.  First, you'll have the ability to smoothly turn to better line up a shot.  Clicking left or right once turns the old way, but if you hold either,  you'll have a smooth scroll between steps!  So for that left-2 wind, just turn a pinch right and hit it straight.  There will also be the concept of a "starter pack" offered to showcase some of the game's advanced equipment and features and give players a taste of what they're missing with the online mode!
Of course, there are certain things we won't be getting this year (no chipping on the greens, no driving range) that have been common requests from the community, but once again Golden Tee has unleashed a plethora of new features to get us excited for late September!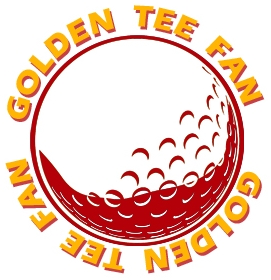 Golden Tee Fan is a Golden Tee addict from Chicago, IL, thirsty for tips and tricks!
Email this author | All posts by Golden Tee Fan