Rhineland — Hole #18: Par 4
By
Golden Tee Fan
• Category:
Rhineland
•
From the back box, here's a great driver around the left side with backspin for an ace.  Here's a 3-wood with a straighter line that also finds the hole.
You can also play to the right under the tunnel, although it's a bit trickier to avoid the water and there is cart path lining the way to the green, impacting spin.  Here's a perfect low-teed driver from the back box.  Although if you do hit the water, hit it low with spin and it may skip – check out this low-teed driver ace!  Check out this amazing deflection off the wall back onto the green and into the hole!
From the front-left box, around the left is often a good play – here's a great 4-wood for an ace.
From the new back-right box, you can play a low driver or sometimes a 0-hybrid to get under the arch…or some conditions allow you to play around the left side of the tower.  Here's a low-teed driver that finds the hole.  Lower-lofted drivers like the 8.5 degree 310 driver work much better here as there's still risk of clipping the tower.
From the new right-front box, the 1-hybrid is a great club to have, — here's a great low-teed 1-bird ace.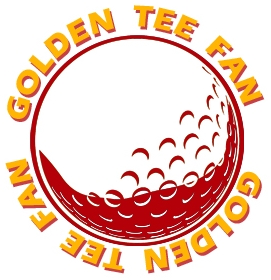 Golden Tee Fan is a Golden Tee addict from Chicago, IL, thirsty for tips and tricks!
Email this author | All posts by Golden Tee Fan