Agave Ranch — Hole #16: Par 3
By
Golden Tee Fan
• Category:
Agave Ranch
•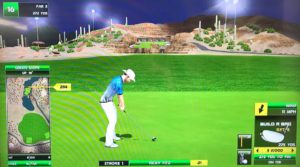 This is perhaps the toughest hole this year, where birdie is outstanding and par can be just fine…it's so difficult to avoid the water with some looks.  You have an awkward green with water everywhere and rocks to deflect errant shots into said water.  Loft is key to clear everything, and accuracy is key to stick the tough green.
There may be situations where you are happy just to bail out to a fat part of the green, even if it means you don't have a clear line at a putt…this can happen with a front pin and a nasty cross-wind, where playing the higher half is easier and safer to land.  At least when your ball comes back there, you have a rock backstop!
From the back-left box, this 3-wood narrowly avoided all those problems to find a back cup!
The far left, shorter tee box is a bit easier because the angle allows you more flexibility to work a shot in with bite to an up 7, right 7 green, but it doesn't show up often.  Here's a 4-wood ace from there.
There's a new tee box here in the front-right from about 150 yards — here's an ace from that setup.
Another new box sits closer left from about 200 yards…this 3-hybrid finds the cup from there.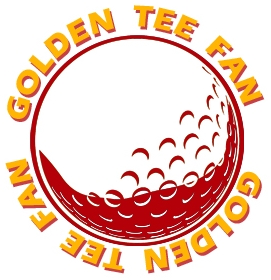 Golden Tee Fan is a Golden Tee addict from Chicago, IL, thirsty for tips and tricks!
Email this author | All posts by Golden Tee Fan