Beals Creek — Hole #11: Par 4
By
Golden Tee Fan
• Category:
Beals Creek
•
From the original tee boxes, this one is always drivable but you'll notice considerable differences in distance.  Shorter looks, or looks with a tailwind, only require a medium-teed driver with backspin.  Longer looks call for a high tee where you blast a driver.
In most all cases, you'll want to aim for the stretch of rough in between the two sand traps in front of the green.  If you land around here, your ball will bounce up onto the green for your eagle putt.  And especially with longer looks, you don't want to be pin-hunting and come up short in the sand…make your first goal trying to hit that gap to get up on the green, and then worry about your putt.
With an easier look from the front of the box, this driver with backspin finds a front pin.
With a tailwind, this shot can really carry – check out this medium-teed 10.5 driver that finds a back-left pin.
Some of the new tee boxes make this a layup hole.  There's a new tee box way in the back from about 430 where this hole is usually not drivable, so you may choose to lay up at the end of the first fairway.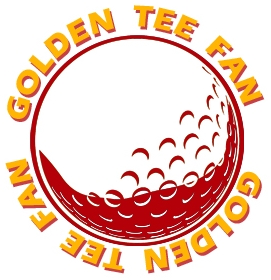 Golden Tee Fan is a Golden Tee addict from Chicago, IL, thirsty for tips and tricks!
Email this author | All posts by Golden Tee Fan