Beals Creek — Hole #8: Par 4
By
Golden Tee Fan
• Category:
Beals Creek
•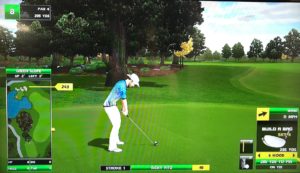 You'll find yourself playing left and right about equally here with many combinations of woods and tees.  A good tip is not to let the wind determine the direction you take as much as the pin placement.  For example, in the screen shot here, you want to play around the right side since the pin is on the left.  This lets you land and spin the ball back towards the cup.  If you play around the right, the wind will push your ball away from the hole…it's much harder to get it close.
The exception to playing "with the green" may be if your tee box and pin placement are on the same side such that it's a much straighter shot into the green…players will have an easier time controlling a small hook rather than attempting a big hook.  For example, this 5-wood with backspin eases around the right side to spin back into a right cup.
From the back-left, here's a great 6-wood around the left side that finds a front pin.
From the front-right, this high-teed 8W cut over and around the corner to find the hole.
There's a new tee box out left of the cart path that offers a fairly straight shot through the trees at the green from about 280 yards…here's a 3-wood ace from there.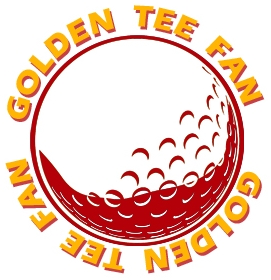 Golden Tee Fan is a Golden Tee addict from Chicago, IL, thirsty for tips and tricks!
Email this author | All posts by Golden Tee Fan