Catedrais Beach — Hole 12: Par 4
By
Golden Tee Fan
• Category:
Catedrais Beach
•
Here's a tough hole, especially with a cross-wind, because the green is so narrow.
A tricky, not-so-subtle challenge here is that the green slopes right 5!  Sometimes you'll get a left pin with a strong wind blowing right and it's almost unfair.  That might force you to turn right one and play a C2 cut into the green to counteract everything pushing right, but again, that's a really tough shot because of the narrow green and the penalty of water if you miss.
From the left box, if you opt to try to cut the ball into the wind instead of playing out into the wind, be aware of the rock on the top left of the hill, which can knock down a shot without enough loft.  Clearing the hill is first, which is usually fine…accuracy is next to hold the narrow green, and distance is last to have a closer putt.  Here's a 5-wood that trickles down into a front pin!  And this driver easily floats over to a back pin.
From the right box, it's flatter and the hill is mostly out of the way, but that doesn't make a shot with a cross-wind much easier.  This high-teed driver is thumbed to the perfect spot off the top of the hill to carry down and in!
One new box is between the original two boxes from about 300 yards where you play over the hill angled into the green.
Another new box is front of the left box offering a shorter wood straight over…here's a 6-wood ace from there.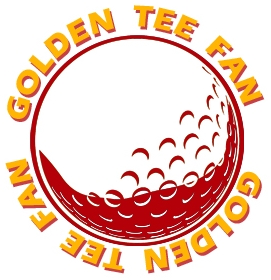 Golden Tee Fan is a Golden Tee addict from Chicago, IL, thirsty for tips and tricks!
Email this author | All posts by Golden Tee Fan