Catedrais Beach — Hole 14: Par 5
By
Golden Tee Fan
• Category:
Catedrais Beach
•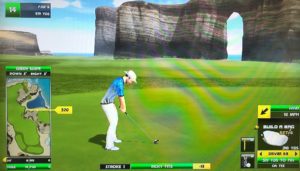 Most times the best shot here is to blast as far as you can down the left fairway, either a B2 hammer or a curve shot.  In the right conditions, you'll carry far enough to have a clear shot at the pin.  Sometimes you'll have to play a small cut into the green still, but it's not usually too tough for an approach.
After a long drive, here's an easy 8-iron in for the hole-out.
The worst conditions have you considering cutting an A1 drive under/through the arch to the right to get out to the right fairway and a chance for an approach, but that's clearly a much more challenging shot off the tee.  After a great drive over there, here's a 4-wood hole-out.
There's a new tee box to the front-left that offers multiple options.  You can play straight ahead up top on the hill, but it's not that easy to stick.  You can blast it out left in the fairway but you'll have to curve a shot around the hill into the green.  Or you can can curve a shot around right into that fairway, but you'll have to curve another shot into the green from there as well.
Another new tee box to the front-left just allows an easier way to blast down the left fairway for an open approach at the green.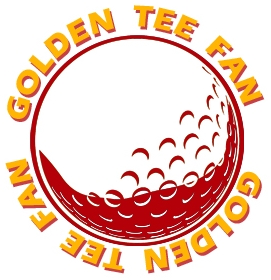 Golden Tee Fan is a Golden Tee addict from Chicago, IL, thirsty for tips and tricks!
Email this author | All posts by Golden Tee Fan