Catedrais Beach — Hole 15: Par 4
By
Golden Tee Fan
• Category:
Catedrais Beach
•
Even though the green slopes downhill, it's still a nice option to high-tee a wood and go straight at the green, compensating for distance.  This is usually still easier than trying to curve left or right around the hill into the green.  Here's a high-teed 5W that finds a back-left pin.
Something else to keep in mind with a tailwind is that a medium-teed 6-wood will still carry over the top from about 280, where you can take advantage of backspin to hold near a front pin.
Longer setups may call for you to cut a driver through the gap on the left, which is not easy.  Or perhaps the setup calls for it, like this nice 3-wood around the side with backspin into a front pin.
One new box is front-right from about 240 where you curve a high-teed 7/8W around/over the hill into the green.  Or you can go lower and play around the hill with backspin…this 3W gets it done!
Another new box is further front-right from about 225 yards where you go around the right side of the hill into the green.
Yet another new box is left of the original, mostly forcing you to high tee and hit over the hill into the green.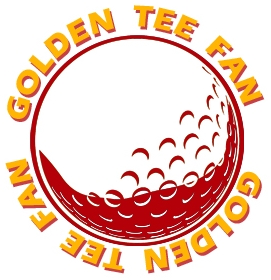 Golden Tee Fan is a Golden Tee addict from Chicago, IL, thirsty for tips and tricks!
Email this author | All posts by Golden Tee Fan