Catedrais Beach — Hole 16: Par 3
By
Golden Tee Fan
• Category:
Catedrais Beach
•
You'll get a lot of practice shaping shots here, as most setups call for you to curve around the hill into the green.  This can either be a small cut, most often with the wind NOT blowing right, or a larger cut where you rotate to the right and play more of a C2-type shot into the green.  With larger cuts, remember to club down a half-club…bite is usually a good option to try to settle into back pins.  Pinball is an option back there too if you're slightly long.
From the front-left box, this 8-iron finds a back pin.
From the right-center box, here's a 5-iron ace to the lower tier.  And you could have taken this 7-iron lined up at the pin and played out slightly right…luckily the pinball action turned a bad shot into an ace!
From the back box, here's a 6-wood that shows that if you tuck it back there and let it bounce around, good things can happen!  A 3-hybrid is a great club to have from this box too to keep it low and cut it in.
One new tee box is on the other side into a left 5 slope but way downhill from the top of a plateau.  With a tough wind this can be a really difficult shot.  Here's an 8-iron that finds the hole.
Similarly, there's a highly-elevated shot into an up 5 slope from about 250…here's a great 5-wood ace from there.
Another is back-right of the original boxes on a new island in the water…here's a 6-wood ace from there.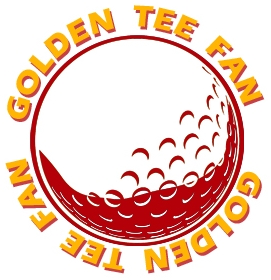 Golden Tee Fan is a Golden Tee addict from Chicago, IL, thirsty for tips and tricks!
Email this author | All posts by Golden Tee Fan